Free cross-stitch design "Fairy unicorn"
  Free cross-stitch design "Fairy unicorn"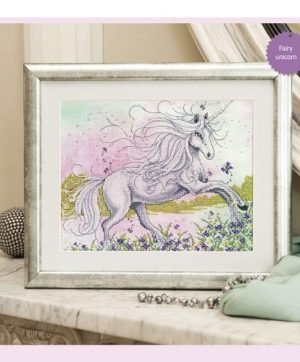 Use your stitching skills to create this enchanting design of a mystical unicorn, stitched on one-off hand-dyed evenweave in mint and blush
Stitched on the appropriately-named Fairy Dreams evenweave from Polstitches, this stunning design of a unicorn is the perfect project to challenge your stitching skills, as it uses fractionals, French knots and beads. The finished piece is so beautiful, however, that you'll relish every stitch and once complete, all the hard work will definitely be finished.
You will need:
Threads: Stranded cotton and metallic thread as listed in the key
Needle: Size 26 tapestry needle and a beading needle
Fabric: Polstitches 28-count Fairy Dreams evenweave measuring 33×41 cm (13x16in)
Beads: Mill Hill seed beads as listed in the key
Extras: Frame of yourchoice with a minimum aperture of 22x29cm (8 1/2 x  11 1/2in)
STITCH COUNT 120 high x 160 wide
DESIGN AREA 14 HPI (28-count evenweave) –
22x29cm
Free download free cross-stitch design "Fairy unicorn": Download
This design was stitched using DMC stranded cotton, Kreinik#4 braid and Mill Hill seed beads on 28-count evenweave over two threads of the fabric.
Designed by Joan Elliott
See also another  cross-stitch designs for free download
Don't miss new cross-stitch design with still life in chinese style
If you enjoyed this article, subscribe to receive more just like it
Don't forget to confirm your subscription (if you don't find our message in your inbox, check your Spam folder)