Cornflower Blackwork-embroidery design
Cornflower Blackwork-embroidery design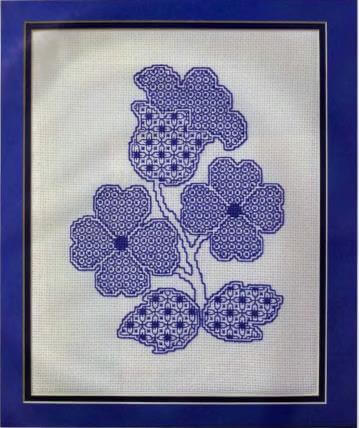 Blackwork can be given a wonderfully contemporary look simply by changing colours. Here was  used
just one, cornflower blue, and combined it with the different patterns within the design.You'll agree – the effect is stunning!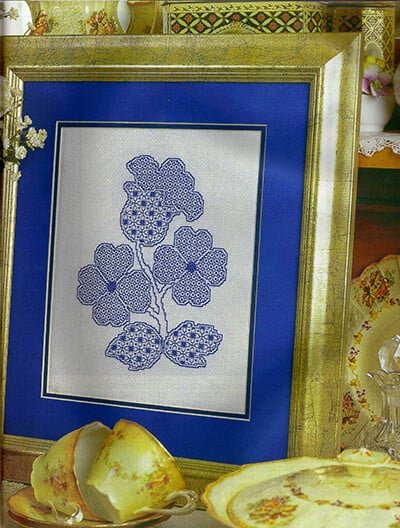 MATERIALS
• 30cm x 35cm (12in x 14in)
14-count Aida cloth: white
• Anchor Stranded Cotton:
three skeins o f
cornflower blue (940)
• No 24 tapestry needle
DESIGN SIZE
20cm x 15cm (8in x 6in)
STITCHES USED
Backstitch, Cross Stitch
PREPARATION
Overlook or hand-sew the edges of the fabric to prevent fraying. Find the fabric centre by measuring or by
folding the fabric into quarters. Use a line of tacking stitches to mark these two folds. These lines will intersect at the centre of the fabric.
The design chart has four arrows. Using a ruler, draw a straight line to join these arrows. This will give
you the design centre. The centre of the fabric will correspond to the centre of the chart. Each square on
the design chart represents a stitch.
STITCHING
To begin work, select a thread, hold the loose end behind the fabric and secure it with your first stitches. To
end off the thread, run a needle through the back of several stitches to secure it. Do not use a knot in
your thread as this will leave a bump in the fabric on your finished work. Do not carry thread s across to
different areas as they will show through to the front of the fabric. Try to keep your tension even and
do not pull the thread too tight. Working with an embroidery hoop or lap frame will give a better
tension. If using an embroidery hoop, do not leave your work in the hoop when you are not working on
it, as this may leave creases in the fabric that will be difficult to remove. Work Cross Stitches using
three strands of embroidery thread over two fabric threads.Separate the strands of the cotton and allow them to untwist before putting them back together to thread the needle. Begin stitching at the centre of the design. It is
important that all the stitches travel in the same direction. Refer to the S titch by S titch pages for the
Cross-stitch illustration . When you have completed all the Cross- stitching, work all the Backstitching over two fabric threads using one strand of cotton.
FINISHING
Before having your work framed, it is a good idea to launder the fabric. Using warm water and pure soap,
gently swish the fabric through the soapy water. Do not rub the fabric. Rinse very well in cold water, then gently roll the fabric in a clean white towel to absorb excess moisture. Do not wring the work, but lay it flat in the shade to dry. With the iron on a warm setting, press the embroidery, face down, on a fluffy white towel. Do not apply pressure to the iron as this will flatten the stitches.
Download chart: DOWNLOAD
See also embroidery  technique redwork
You also may like: The history of blackwork
If you enjoyed this article, subscribe to receive more just like it
Don't forget to confirm your subscription (if you don't find our message in your inbox, check your Spam folder)